La Paillote
La Paillote is French for the bamboo beach huts that line many of the beaches in Southeast Asia.  Went along with Photographer Robert Fretwell to see what they were offering. Manager Frederic has lived in Hua Hin for 18 months. He came here to try the kite surfing and fell in love with the town. La Paillote has been here for 13 years and is a much loved part of the Hua Hin restaurant scene. Frederic took over as manager early in 2018. 
The restaurant has an adorable ambiance, neither wholly indoors nor fully al fresco. It reminded me of the style of many of the restaurants in Siem Reap. It sits on a busy thoroughfare and is separated from a similar looking Italian restaurant next door by a small soi. 
As one would expect of a good French restaurant the presentation of all the dishes is superb. For couples of mixed nationality or people who prefer local food, the restaurant has a superb selection of 14 Thai main courses. 
Chef Frederic prepared a selection of their favourites for us to try. 
Starters:
Chicken Satay Arrows, Peanut Sauce
THB 240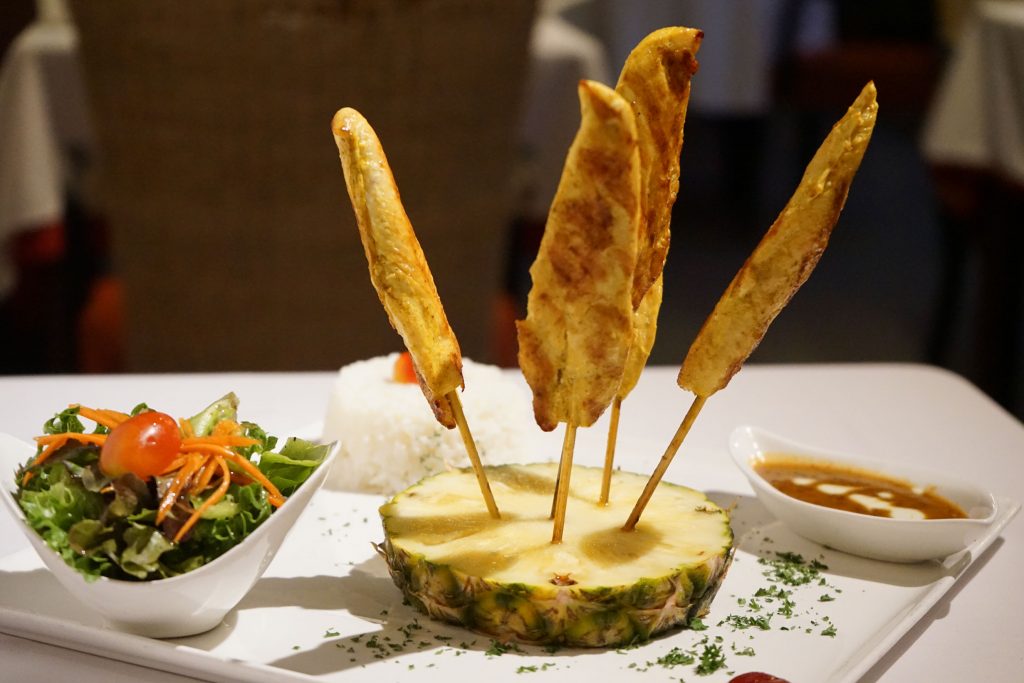 Beautifully presented. With five, more than generous, portions of chicken standing proud out from a slice of pineapple. The satay sauce, I really liked, it was the way that I have had it in Indonesia, lightly spiced and full of flavour. It comes accompanied by a light side salad and rice. 
Snails with Garlic and Parsley
THB 330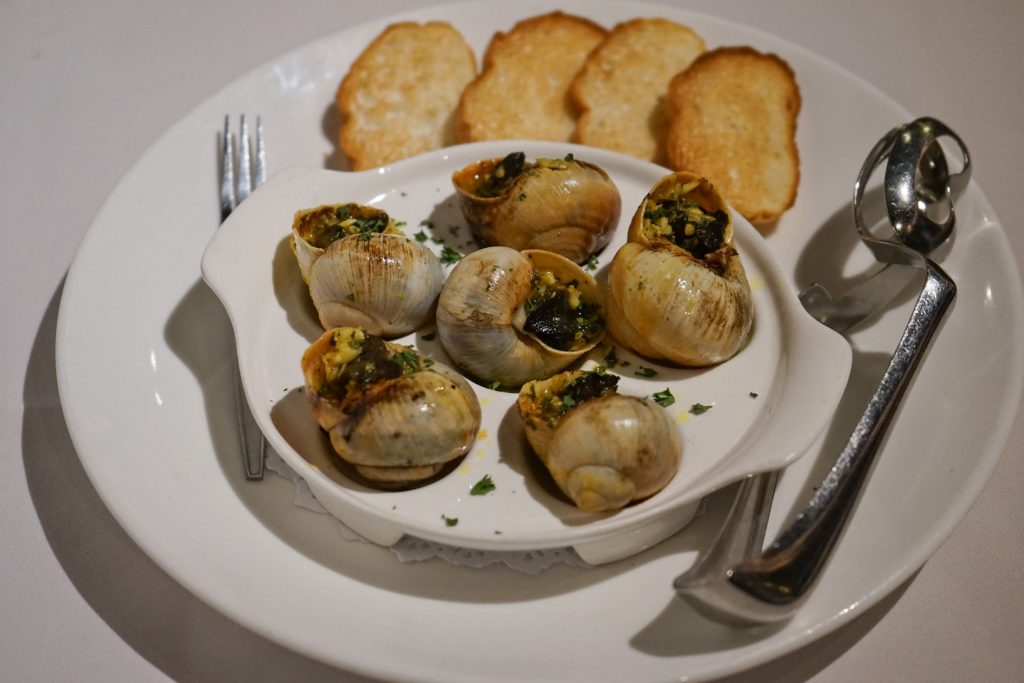 Half a dozen plump snails cooked exactly how I like them. I have tried snails a lot since moving to Asia, but I have to be honest, nothing beats the French way of cooking them. Perfect!
Smoked Norwegian Salmon and Condiments
THB 290
Three very substantial slices of Norwegian Salmon served with a delightfully fresh salad and sliced potato. As with all of La Paillote's dishes, the freshness and presentation leaps off the plate. 
Shrimp Cocktail a la Parisienne.
THB 240
A nice strong glass stuffed with salad, sauce and six beautiful shrimps. We are so lucky here in Southeast Asia to have such fabulous seafood. That being said, it still has to be done right. Again La Papillote delivered with this classic dish. The rosemarie sauce was exquisite. 
Mains:
Roscoe Rock Lobster Thermidor, Shelled and Gratinated.
THB 680
Possibly the best presentation of this dish that I have ever seen. It really was spectacular. These are the kind of dishes that can either be simply enjoyed or shared with a loved one. The portion sizes for everything at this restaurant were more than generous. Served with mixed vegetables, salad and wonderful dauphinoise potatoes.  This was simply gorgeous. 
Mussels Provencal, Dry White Wine, Tomatoes and Provencal Herbs
THB430
A large old fashioned pot arrives at the table and unlike many places the mussels go all the way to the top. This is an extraordinary serving of provencal mussels. It arrives at your table with a side of fries that are in a preheated cup. This attention to detail does not go unnoticed. The mussels are local and are very good indeed. 
Duck Breast grilled as per your choice, served with Orange Sauce
THB 530
A classic French dish if ever there was one. This looked absolutely beautiful, the duck was quite rare which I know is an acquired tasted for a lot of people, but I'm cool with it. The orange sauce was as good as I have had. The usual side of crisp salad was joined with sautéed vegetables and chips. 
Dessert:
Iced Parfait with Cointreau
THB 230
A lovely subtle blend of ingredients, the cointreau stood proud.
Crepes Suzette-Napoleon with Mandarin Napoleon and Ice Cream.
THB 340
Wow! How do you get so many oranges into one crepe? This was utter bliss. 
The wonderful food was accompanied by two lovely wines. The white was a Jacob's Creek Wah, a dry gold medal winner in Japan it costs THB 1290. The red was a glorious Cote du Rhone from Belle Roche costing THB1190. The final perfection were the Irish coffees. Sometimes reviewing is hard work, this was exceptional food with a great host in a truly delightful setting. If only life was always like this. 
It is worth noting that La Paillote serves salads and sides with just about every course. I think this is an admirable course to take. So often what seems like a reasonable price can end up being very expensive. I genuinely admire Frederic and his staff for what they have achieved here. It really is a case of what you see is what you get. 
This is certainly the best restaurant that I found in Hua Hin, admittedly I was only here for a week. But if top quality seafood, great steaks, excellent salads and that certain je ne sais quoi that only the French can provide, then miss it at your peril.