I lived in Thailand for almost 5 years before moving to Vietnam, where I now live and write. Southeast Asia simply captured my heart. I came for a football tournament in 2005, went home and immediately booked a three-week holiday for a few months later. During the next 3 years I visited the country 14 times before finally making it permanent in 2008. I spent most of my time in Bangkok, although I did enjoy a few months up in Chiang Mai. Being an expat, forces certain changes upon you, though I have to say in my case they were changes for the good and I welcomed most. Even a serious spinal injury in 2012, could not dampen my spirits. I have lost a bit of mobility but I still prefer life in Asia. Whilst I was in Thailand I noticed many things that were different from the West, some good and some bad. I prefer to focus on the good. Here a few things that I love about life in Thailand.
Cost of Living
This is probably the first thing you'll notice and it is a biggie! Just about everything is relatively cheap in Thailand. Obviously Bangkok is more expensive, but you would expect that. Although prices in the capital have been steadily climbing over the last few years they are still way behind any European equivalent. Bangkok vies with London as the biggest tourist destination in the world. Comparing prices between the two giant cities would be laughable. You can rent a very good apartment in Bangkok for £500 ($750). I'd hate to think what that would get you in London, probably a park bench. Eating out, drinking and just about all forms of entertainment in Thailand are a fraction of the price you'd pay in the West. Get out into the countryside and the difference is even greater.
Food
This is a complete no brainer for me. The food in Thailand is arguably the best in the World and it definitely blows British food out of the water. It's not like I ate much British food when I still lived in Manchester anyway. My hometown has an abundance of restaurants from all over the globe, but when I was in a pub and had no option, I was generally disappointed. Like everything else, food is hellishly expensive in the UK. In Thailand if you have to, you can survive on a few baht each day. Street food in Manchester consists of terrible hot dogs, greasy burgers and jacket potatoes. In Bangkok, the standard is exceptional, the choice is incredible, it's available almost 24 hours a day and is as cheap as chips. Come to think of it, you can no longer say that, even chips in the UK are ridiculously expensive. No doubt about it, the culinary delights are a huge bonus of life in Thailand.
Transport
Whilst London's Underground is one of the biggest and best in the world, it is frighteningly expensive and not the most pleasant of places to be, alone at night. To walk up and travel, the cheapest ticket is £4.30, which is an astonishing 11 times more expensive than the BTS in Bangkok. Personally I think there is no excuse for it. Internal travel on a city's transport system should be cheap. Whilst the MRT and BTS in Bangkok don't cover the entire city, they do get round most of the places that I used to frequent. More lines are planned; life in Thailand is about to get better.  Buses in London are not cheap, whilst in Bangkok they range between FREE and very cheap. Taxis are a bit of a hit and miss affair. If you get a good one in Bangkok, they are cheap and perfectly fine. The trouble is, it might take you a couple of attempts before you get a driver who is prepared to go where you want to go. Taxis in the UK are off the chart, expensive. When I last went home, a taxi from Manchester Airport to my home 13 miles away cost me £33.00 ($50.00). At least in London, the drivers are notoriously good at finding their way round. But even Dick Turpin had the decency to wear a mask.
Street Life
I absolutely love the streets around Sukhumvit in Bangkok. They are teaming with life and are a riot of noise and colour; everything that a city centre street should be. The place is utterly mental at times and I love it. During the day market stalls, spill across the footpaths and into the roadway. Between Soi 11 and Soi 1 they take up a lane of Sukhumvit road itself. Then at night they all disappear to be replaced by unlicensed bars that stay open all night. I know a lot of my old friends in the bar trade used to get annoyed by them, but I always thought they added such a lot of the colour and character that attracts people to Bangkok in the first place. There really is nothing quite like staying out on the streets all night, drinking at a street bar and eating from a street restaurant. This of course is something that simply doesn't exist in most of the West.
The Weather
Hey I'm English, how could I NOT talk about the weather. If you like it hot, and I do, Thailand's climate is just about unbeatable. It is either hot and dry or hot and wet. When you get wet, you stick around for half an hour and get dry again. It is pretty special. Day after day of sunshine, and the warmth goes through the night. In the UK, even on the best of days, it will get cool in the evenings. One thing I love about life in Thailand is simply sitting out at night on a hot evening, with a cold beer and good company. However, something I do miss though are the light nights back in England.
Expat Community
Anyone who has ever lived as an expat will tell you that friendships are very easily made. It seems that simply having the expat thing in common forms a bond. I have formed some wonderful friendships in Thailand, Cambodia and now Vietnam. I am not saying that I didn't form friendships at home, but I think moving to another city in ones own country is actually harder that starting alone in a foreign country. I have had so many people going the extra yard to help me settle in here. There is something about expats, they generally are working in decent jobs and are therefore reasonably intelligent, the have a drive about them as it takes a certain amount of courage to up sticks and leave, and they are more often than not, very outgoing.
Location, location, location
As a place in which to base yourself, Thailand in general and Bangkok in particular is an amazing place from which to explore the whole region. Amazing mystical places are all within very easy reach. It is easy and cheap to hop on a plane and enjoy a weekend break in destinations that sound unbelievably exciting from a European perspective. Air travel within the region is cheap and the availability of flights to all the other Southeast Asian countries is amazing. Basing your life in Thailand opens doors.
Beaches
If you are a sun lover, a water sports fan or simply love to sit under a beach umbrella, Thailand ranks as one of the best destinations in the World. Having the option of nipping to the beach whenever you want is one heck of a plus of life in Thailand. Whether you live in the cities or not, the beaches are not generally out of reach for a weekend break. And Oh! What beaches Thailand has. Hua Hin and Cha Am just outside Bangkok, the islands in the South and all round the Gulf of Thailand, there are lovely spots catering for all kinds of beach life.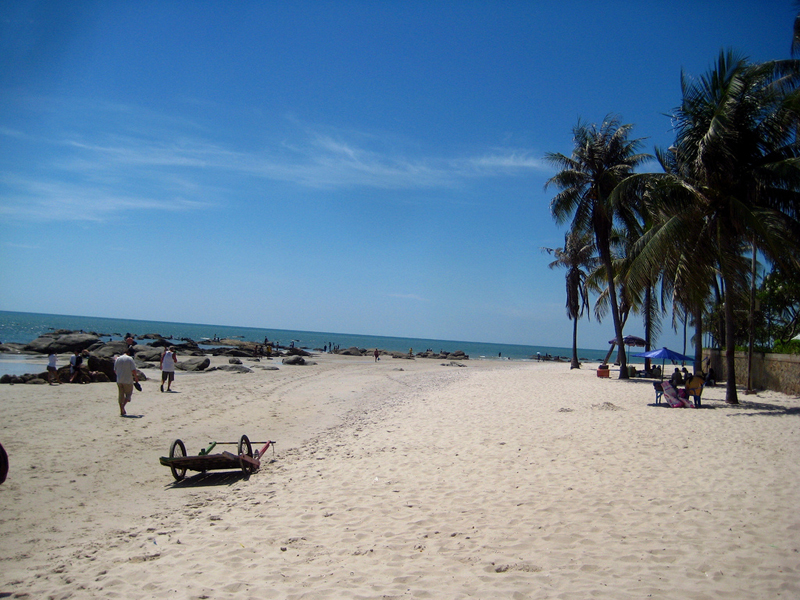 The People are the Best Thing about Life in Thailand
I think people are pretty good all over the world. If you put out to them, you tend to get nice stuff back. I have nothing but praise and good thoughts about the Thai friends that I made whilst staying there. I had plenty working for me and I knew many more on a friendship basis. There were terrific and made my life in Thailand all the more enjoyable. It can be frustrating trying to get things done, and the service industry needs a real shake-up, but they are the salt of the earth.
Social Responsibility
I really do like the way that in Asia one has to have a certain amount of responsibility for oneself. In the West if you trip up over a broken paving stone, you sue everyone under the sun. This of course simply means that Insurance companies have to cover themselves and governments and local authorities have to pay more. We in turn as citizens have to pay more income and council tax. In Thailand if you trip over a paving stone, serves you right for not looking where you were going. I know which I think is the best way to go.
And there you have it, some of the reasons that I found life in Thailand so alluring. I love Vietnam, where I now live but I would have no doubts about returning to Thailand at some time in the future. I genuinely do love it. Let us know if you think I've left anything off the list.