I decided to take a couple of days out from the Saigon Smog and grab some fresh sea air. An old school friend was in town and we decided to get away for a couple of days peace and quiet. Jumping on the hydrofoil from Saigon's Riverfront couldn't be easier. Having been suspended from operating for almost a year, following the fire which saw one of the raging fleet sink, Vinexpress are now back in action. Their fleet of hydrofoils have been refurbished and they began operations again just before Christmas. I have to say, after hearing quite a bit of negativity from expats in Saigon, I was completely surprised. The hydrofoil is a great way to travel; it's fast, smooth and quiet and affords passengers some really good views once you get out past the Phu My Bridge. I was more than pleasantly surprise by just how many things to do in Vung Tau, there are.
We pulled into the quayside in Vung Tau, jumped in a cab and were safely ensconced in our hotel rooms in no time and little expense. First impressions were of a sleepy almost old European style holiday town. The faux art deco buildings are actually a joy to look at and they sit well with the way the town has developed.
I hired a motorbike and went exploring. Vung Tau is small and very easy to get round. The main part of the town is on the side of the headland where the hydrofoil docks. On the other side of the headland it is quiet, with long stretches of beach, resorts dotted along the front and little all else. We grabbed some lunch in a building that looked as though it had been built to house thousands of holiday makers. We were the only two in it.
Religion plays an enormous part of everyday life here. There appear to be churches and temples at every corner. Icons of many religions are everywhere. The famous Statue of Christ on top of the hill between the two halves of town and dominates the skyline from certain angles. But this is only one of many. It seems that Vung Tau has become a retreat for people of all religions over the years. Buddhist temples stand alongside Catholic churches. It appears that religion is one of the important things to do in Vung Tau.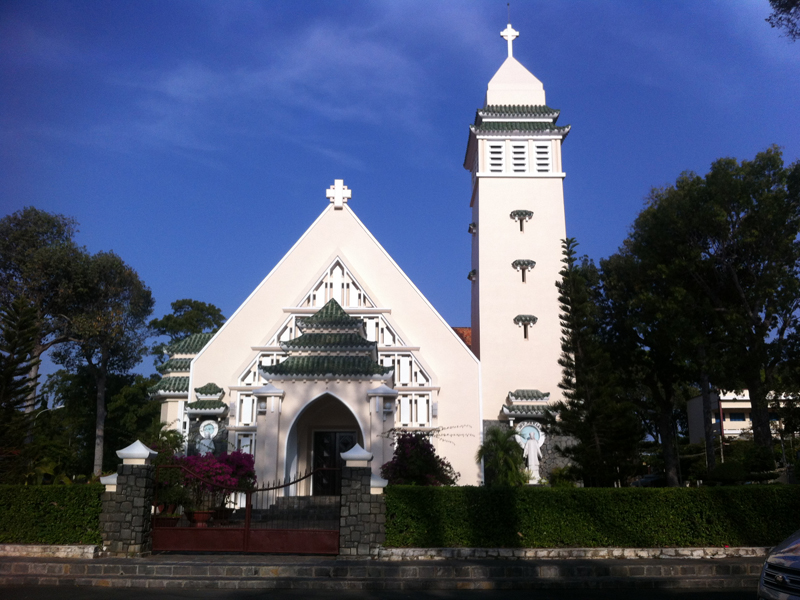 The best buildings in towns seem all to be either new hotels or religious buildings of one kind or another, with one notable exception. Along the coast heading north from the main part of town they are building what is to be the new Vung Tau Museum. It is an astonishing looking building. I couldn't decide whether it was going to be a mosque or a Hindu Temple, but a translation of the billboard outside confirms that it is indeed the new museum and will be finished on 2nd September 2015.
Further along the coastal road here there is a cable car ride up to the top of the hillside. The cars come out over the road. The Doppel Mayer cable car system used here is one of the safest modes of cable-car transportation. At the top of the hill is an environmentally friendly park, home to some exotic animals and providing passengers with terrific scenic panoramic views.
Driving round the town is a very pleasant experience. Having spent a couple of years navigating the Saigon Traffic, getting out to a quiet town like this is a real pleasure. In the centre of town is a neat little park. What Vietnamese park would be complete without a statue of Tran Quoc Tuan? Here it is quite magnificent. The Supreme Commander of Vietnam during the Tran Dynasty looks quite magnificent here.
I found a busy little market along a street called Nam Ky Khoi Nghia. On the opposite side of the road from the market, women flower sellers gather to sell their beautiful marigolds and other types of flowers to a steady stream of customers. They were doing a roaring trade. Aung Tau men, must be romantic souls. Taking flowers to loved ones is apparently a good thing to do in Vung Tao.
The nightlife seems to be a mixture of good restaurants, expat hangouts and girlie bars. Though it is not so much in your face, the girlie bar section seems to be limited to a short stretch along the promenade.
I sat having lunch, working at the laptop in a delightful coffee bar right on the water's edge. I watch fascinated as a fisherwoman tended her nets. Rowing the boat effortlessly with her feet, she would row out to sea and cast her nets, then just as expertly, she rowed back in, hauling the net back in and picking the fish out of the net, to throw them in a large bowl between her legs.
One of my favourite pastimes is simply riding along unknown routes on a motorbike and getting lost. It is always fascinating and one stumbles upon the most unusual things. I found a track leading up the hill from the centre of town and followed it. I thought it might go all the way to the top, it didn't but I later found one that did. The branch I took turned into an unmade dusty track the kept climbing through the trees. Just before it came to an end I found a small shrine. I think it depicts the monkey king, Sun Wukong, though It was its location that made it so special. There was nothing anywhere near it, yet it had been so lovingly looked after.
All too soon it was over and time to head back to Ho Chi Minh City. I really enjoyed Vung Tau and will certainly be going again. 90 minutes makes it just the right distance for a weekend break. It is clean and the air quality is lovely. The nightlife is good, there is plenty of great food to be had and the scenery is delightful.