Stay and Play Golf in Cambodia is a relatively new concept in comparison to other countries in the region. This is a poor country and its worth bearing that in mind. Courses tend to be less perfectly manicured and certainly a bit less green. But Cambodia is a truly exceptional country to visit with the sweetest natured people imaginable. Throw in the most magnificent religious monument in the world, Angkor Watt, and you have the trip of a lifetime just waiting for you. Cambodia is a developing nation and as such email addresses and websites are not always available.
So here are some ideas for where to stay and play golf in Cambodia
Address: Sangkat Srangae, Krong Siem Reap, Cambodia
Tel: +855 63 767 688
Email: [email protected]
Website: www.angkorgolf.com

This is the best golf course in Cambodia and by a margin. Designed by 6 time major winner Nick Faldo, it is the standard by which all others are now judged. It is a world class 7,209 yards par 72 18 hole brilliant course. Opened in 2008 it is just 15 minutes from the delightful northern provincial city of Siem Reap. As you would expect it is a well thought out course. The movement of pin positions creates new challenges all the time. The 440 yard par 4 18th is as good as they come. Accommodation is easy within Siem Reap, including the amazing Raffles Hotel, one of the best known hotels in Southeast Asia. The city, course and proximity to Angkor Wat make this just about the best place to stay and play golf in Cambodia.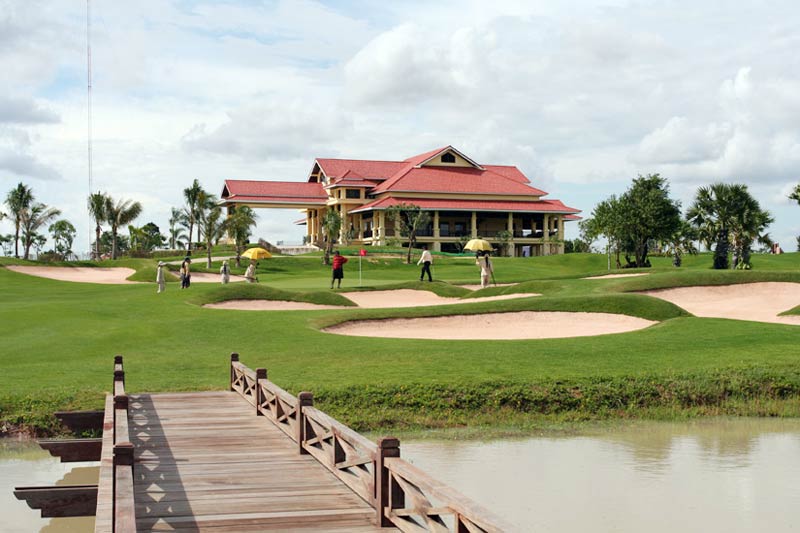 Address: Dontro Village, Lavea Commune, Puok, Cambodia
Tel: +855 6396 4600
Email: [email protected]
Website: http://www.phokeethragolf.com/phokeethra/home.html

An excellent 18 hole, 7327 yard, par 72 was the first true International standard course in Cambodia. Managed by Sofitel it Staged the Johnny Walker Cambodia Open in 2007, 2008, 2009 and 2010. Water hazards are the mark here and they come into play on all but one hole. There is a double water carry on the 18th. As you can imagine, being run by Sofitel, accommodation is of an exceptional standard. The style is of a refined country club, which is a perfect match to a gold course. This is a truly exceptional venue to stay and play golf in Cambodia.
Address: No 56A, Str. Samdach Songkreach Tieng (222), Daun Penh, Samdech Preah Sangkreach Tieng St, Cambodia
Phone:+855 1281 1778
Website: http://www.cambodiagolf.net/eng/index2.asp

The oldest golf course in Cambodia, it opened in 1996 and has gained the nickname of the Sugar Palm Course. This is a well thought out and planned 7,077 yard course, quite flat, particularly the front nine, but with some interesting sand and water traps. It is lined with sugar palm trees, native fruit trees and evergreen plants and flowers. The 18 hole par 72 is about 45 minutes drive to the west of the capital Phnom Penh. This gives you the full range of accommodation venues that the city has to offer. Everything from 5 star treats to Backpacker flop houses.
Stay and Play Golf in Cambodia's capital city
Address: National Road No 4, 12409 Phnom Penh
Tel: +855 2336 6689
This 7,075 Yard par 72 18 hole course was opened in 1999. It is 8km (5 miles) from the Phnom Penh International Airport. Just ten minutes drive from the city, it has become a favourite of locals and expats. It was designed taking in the natural features of the land. They have made good use of native palms, and plants coupled together with the natural wetlands. The large natural lake near the third, gives you something to think about; whilst in total water comes into play on a dozen holes. The clubhouse holds the traditions of Cambodia with modern facilities. Again accommodation is in the nearby capital city.
Address: Phum Prek Tarath, Sangkat Prek Tasek, Khan Russey Keo, Phnom Penh
Tel: +855 8 8338 8555
Email: [email protected]
Website http://www.gardencityclub.com
Stay and play golf in Cambodia welcomed it's latest venue in 2013. The newest course to open in Cambodia, it has been extremely well received. It is an international standard 18 hole 7,291 yard par 72. The course is kept in good condition and is situated just 20km (12 miles) to the north of Phnom Penh. Using Phnom Penh as a base provides a great stay and play golf in Cambodia experience. The magnificent Garden City Hotel opened here in Autumn 2015. It provides guests with wonderfully high standard of accommodation.
No list can ever be complete, but this five will provide terrific conditions for your stay and play golf in Cambodia holiday. Tourism in the country is growing rapidly. The charm of the Cambodian people will leave lasting memories. The quality of the rapidly improving golf courses will provide testing golf. The cultural history will impress and fascinate. Cambodia is a wonderful country."