One of the best Cambodian islands is without doubt Koh Ta Kiev Island. This untouched, densely-jungled gem is about 6 kilometers (1 hour by boat) from the mainland of Sihanoukville, Cambodia. It remains almost unknown to most travellers.  If you are in Vietnam, that is 240 kilometres northwest of Phu Quoc Island. If you are in the region this is a must-stop destination.
Unlike many of the best Cambodian islands, Koh Ta Kiev has yet to see much development. There are fears, though, that this might in fact, soon change. As of today, there is still no wifi, running water and limited electricity without the use of generators. There are only a few options for accommodation here, most of which are nestled peacefully amongst local fishing villages, and in close proximity to the beach.  
The island contains 3 gorgeous yellow and white sand beaches that are easily accessible by foot. One can drift around the entire outskirts of the pine tree-lined landscapes as they desire. Keep in mind, however, the island does have a high tide during part of the year which can overtake the beautiful beach space. So, do make sure to keep an eye on the best times to travel to this part of Cambodia, which are between November and March. During this season, the heat and rain have toned down immensely, making way for a perfect tropical climate.
What to Do on The Island
Well, it's an island with no wifi…so reconnect with mother nature! Hike through the jungle and discover something new. Embrace your inner Lewis and Clark or David Attenborough and explore the untouched terrain of Koh Ta Kiev before the trees and plants are plowed to make way for gawdy villas and the typical ecological destruction that follows the development of any tourist hot spot.
This is certainly a destination for nature lovers and those that like to travel without a serious agenda. What you do is your choice. Lolly around on the beach all day and do nothing. Grab a snorkel and some fins to see the wildlife scurrying about beneath you in the ocean waters. Hang out at the bar, go diving, lounge in your hammock or get crazy and go cliff diving with the expert guides from the The Last Point Hostel.  Do whatever makes you happy. This island has the vibe that it is your own private slice of paradise.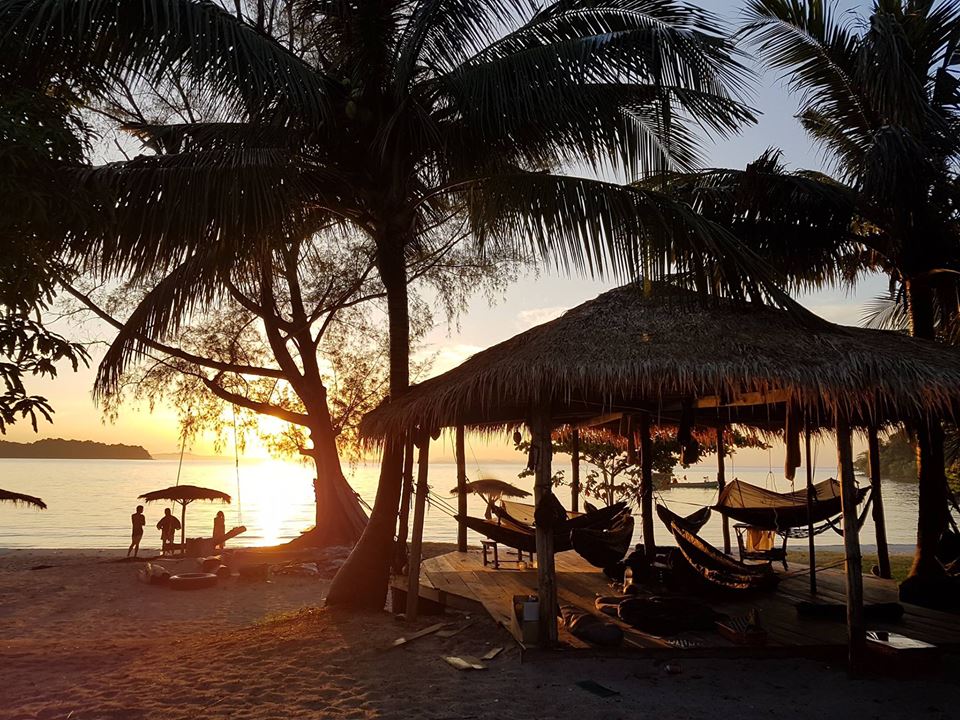 These days, finding an island like this has become more and more of a rarity as development has begun to put its ugly mark on the province. Nearby island destinations like Koh Rong have become a bit oversaturated with tourism and, comparatively, have lost that special, isolated island feel that Koh Ta Kiev still retains.
How to Get to The Island
Once in Cambodia, you will need to go to Sihanoukville in order to get a boat to the island. Depending on where you will be staying, the boat departure times may vary. Most boats going from Sihanoukville to Koh Ta Kiev take off from Otres Beach. Each place of accommodation may have their own schedule as they are all located in different places on the island. Therefore, it is highly suggested to book directly with your hotel or hostel before you arrive to Sihanoukville. The boat ride takes about one hour and ticket prices range from USD $8-12. Small price to pay to see one of the best Cambodian islands.
Where to Stay
When visiting here, Koh Ta Kiev has limited options for accommodation as it has yet to be fully enrooted. One side of the island is owned by the military, while the other portion has 6 different places to stay, all peacefully settled around the island's stunning coastline.
The Last Point is InSeAsia's personal suggestion as it offers a unique range of accommodation, hosts incredibly kind staff and has created an unrivaled chilled-out island vibe. Upon arrival, I was blown away by how warmly I was welcomed and immediately treated like a member of the community. Not to mention, The Last Point has their very own 1 kilometre stretch of untouched beach, making it quite easy to find your own personal slice of heaven. The Last Point truly is one of the most perfect places to stay on what we would call one of the best Cambodian islands.
Best Cambodian Islands: Atmosphere
In this tight close-knit community you do as you wish. It's a restorative change of pace from the rowdy and heavily inhabited likes of Koh Rong.  To be honest, I found this island experience to be far more genuine and rewarding than its over-the-top nearby counterparts. Life at the hostel is kept primitive and simple. So, turn your devices off and put them in your bag. Since there is no wifi, you shouldn't be needing them anyways (except for the occasional self-mandated selfie).
This hostel is a very rejuvenating place to spend time. Staying in tune with nature is a key element of life here. The area is kept surprisingly tidy, and wind and solar-power is the only way to acquire electricity.
Many Types of Accommodation
They offer hammocks, tents, dorms, private bungalows, jungle houses and even outside sleeping. Bring your own hammock or tent for only USD $2-3. Campers can make their own fire on the beach, enjoy a BBQ and wake up overlooking the serenity of the bay's pacifying blue water. The dorms are uniquely designed containing only 3 walls, which leaves an opening for an unparalleled ocean view. This is an experience unlike any other on the island.
Food
The Last Point is also well known in the area for their brick oven pizza and piquant food selection. Try the local fishing; skilled on-site chefs will cook your catch for you- Khmer style.
Getting to The Last Point
When travelling to the Last Point, boats leave from Sea Garden, Otres 1 at 11:30 a.m. everyday. Tickets cost USD $12. It's a good idea to wait until you arrive to the hostel before you pay the fare to avoid any shenanigans.
Other Accommodation Options:
Ten103 Treehouse Bay, Crusoe Island, Kactus, Diamond Takiev Island Resort,  Koh Ta Kiev Bungalows, Koh Ta Kiev Island Resort and Coral Beach KTK