Cambodia is coming out of its shell. The war and the subsequent rule by the Khmer Rouge visited unimaginable horror on this beautiful people. It is a testament to their strength of character and identity that they have come back as quickly as they have. The Khmer Rouge did everything possible to destroy the culture here, but cultural identity is strong and Cambodia's cuisine is part of that. Here are ten dishes that make up the best food in Cambodia.
Beef Lok Lak
A classic Cambodian dish served throughout the country. It came here from Vietnam where it is called Bo Luc Lac which means 'shaking beef'. It was probably the French that brought it to Cambodia, but Cambodians have taken to it with such ferocity that it is now as much a part of Cambodian cooking cuisine as anything.
Fish Amok
Widely regarded as the national dish of the country, it is available just about everywhere. Normally it is presented beautifully in a banana leaf or a simple bowl. It's distinctive flavour comes from the use of 'Kroeung' a Cambodia curry paste made by combining Galangal, lemongrass, shallots, garlic, turmeric, and chillies. This is in turn mixed with coconut milk to provide the base for the Amok. White fish and kaffir lime leaves are added and the sauce takes on a life of its own.
Khmer Red Curry
This rich red curry is less spicy than the curries of Cambodia's neighbour, Thailand. The Khmer version is also a coconut-milk-based sauce, but without the heat, associated with Thai cuisine. the protein normally comes in the form of beef, chicken or fish; eggplant, green beans, potatoes, lemongrass and kroeung are what make up the rest. It is a really delicious meal and is often served at special occasions like weddings, family gatherings and religious holidays. Cambodians people enjoy making the dish to share with monks in honour of departed relatives. It is usually served with bread, a throw back to the French colonisation of Cambodia.
Kampot Pepper
It might seem strange to include a condiment or spice in a list of the best food in Cambodia, but this is quite simply the finest pepper in the world. Chefs all over the globe pay a kings ransom to import this into their restaurants and it only takes one taste to understand why. It is the most aromatic and flavoursome pepper i have ever tasted., and is such a huge part of Cambodian cooking, that I just had to include it. Grown all around the area of Kampot in the South of the country, Khmer people here cannot get enough of it. It is this distinctive flavour that often comes through in all the best food in Cambodia.
Peppered Crabs
It is obvious really where the best peppered crabs would be. The pepper grows in Kampot and the sea is on the doorstep. The local village of Kep is famous for serving this. The freshest of catches, simply cooked in a pepper sauce, it is one of the best foods in Cambodia and in fact the whole of Southeast Asia. Quickly cooked and flavoured with immature green peppercorns and garlic chives, this is a must-have meal.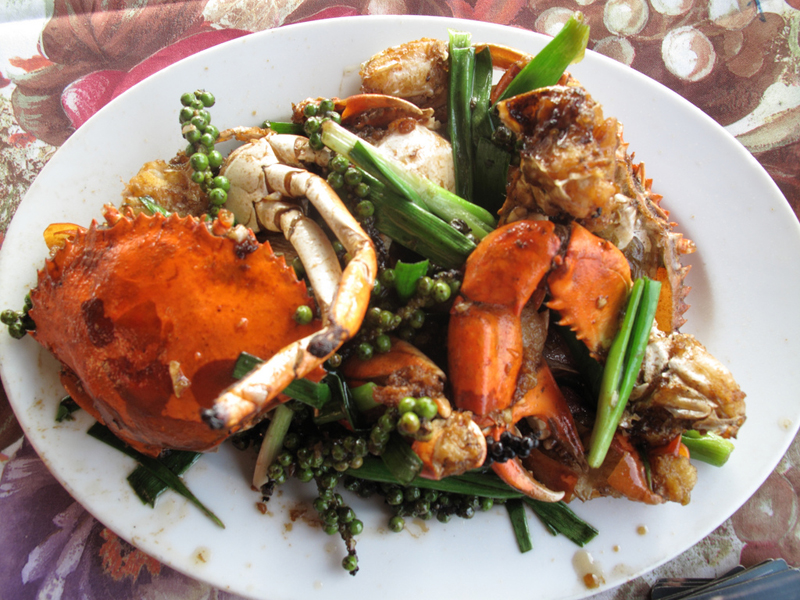 Ang dtray-meuk: grilled squid
This is simply sear grilled fresh squid. Visit any small seaside town and the smell of wood burning will fill the air all day long. The source is the small clay pots over which any number of food dishes are cooked. Whole squids will be placed on wire grills over the burning wood or coals and seared quickly. It is then chopped up and served with a light salad of greens and cucumber. The ubiquitous pepper and lime dip accompanies it and it is delicious.
Khmer Barbecue
This simply way of eating is absolutely one of my favourites. All round town in Siem Reap these barbecue restaurants can be found. A table of raw goodies is on display containing squid, beef, pork, chicken, fish and vegetables. The waiters bring a clay pot full of hot coals to your table and you simply cook the food yourself. Compote pepper is mixed with lime to provide the best dipping sauce on earth. Superb experience!
Lap Khmer
This is lime-marinated Khmer beef salad and it is amazing. Similar to the Thai beef salad though not as fiery it is bursting with flavours. Sometimes, flash fried and sometimes merely marinated ceviche-style in lime juice it comes dressed with shallots, garlic, lemongrass, fish sauce, Asian basil, mint, green beans and green pepper. This is a sweet and salty dish that uses the flavours well and has the addition of fresh red chilis. Khmer men like their meat almost raw, but most restaurants will served it cooked.
Samlor Machu Trey
This soup has a sweet, bitter and spicy taste. It is very popular in Cambodian kitchens as it is very easy to make and really does have a delicious flavour. The main ingredients are white fish, celery, garlic, lemongrass, tamarind, bean sprouts, pineapple, it is then seasoned with sugar, fish sauce, and salt. Locals like to pile fresh green herbs and chillies on top just as it is served.
Red tree ants with beef and holy basil
I'll save the more adventurous for last. Insects are of course eaten all over Southeast Asia, if you have never tried them, this is probably the best place to start. Diving in with deep fried tarantula is not for the faint hearted. This dish though is really nice. Ants of all sizes, some barely visible and others about an inch long are stir-fried with thinly sliced beef, lemongrass, garlic, ginger and shallots. It is served with plain rice though sometimes a portion of any larvae is included for extra flavour.
There you have it, by no means a definitive list but certainly one to start the first time visitor off in Cambodia. This country has so much to offer, amazing countryside, incredible temples the sweetest people imaginable and great cuisine. I feel that these are some of the best food in Cambodia and the dishes should be sampled by anyone travelling here.