Thailand is an amazing country. The biggest tourist destination in Southeast Asia with its capital, Bangkok, the most popular tourist city in the world. Its cuisine is recognised as amongst the very best on the planet. Here is some of the best food in Thailand. These dishes are sold in restaurants, cafes and street corner stalls just about everywhere. They make up the amazing cuisine of Thailand. Not by any means a definitive list, but one that won't disappoint any first time visitor to this wonderful country. A lot of Thai food is extremely highly spiced and takes a bit of getting used to. If spicy hot food is hard for you to take, you can ask the waitress to calm it down.
Tom Yum Goong
One of the most popular dishes among tourists coming to Thailand, Tom Yum Goong is a rich hot and sour prawn soup. It is normally served in a steel doughnut shaped bowl, the hole of which contains a burning candle or wick, to keep it hot. It is a coconut based soup and is extremely fiery. Flavoured with galangal and lemon grass the seafood taste really does come through. Tom Yum is available with other main ingredients, Tom Yum PLa for example being fish, but it this distinctive prawn version that has really become popular.
Som Tam
Green Papaya Salad is eaten almost everyday by most Thais, it is a fresh tasting salad, made with grated green papaya, carrots and other ingredients in a fabulous balance of flavours. The main five tastes of Thai cuisine are all here: sourness in the lime, heat from the chillies, sweetness by adding palm sugar, savoury fish sauce and salt. There are two main types, Som Tam Thai is the fresh sweet variety and Som Tam Isaan which has the addition of pla ra (pickled mud fish). The Isaan dish is definitely an acquired taste. For me it simply taste like rotten fish and mud. However the Thai variety is one of my favourite Thai meals.
Larb Moo
An absolute favourite of mine, I must have eaten this three times per week for 5 years. I really do think this is possibly the best food in Thailand. It is a salad made from minced pork. It is not a salad in the true Western sense as in it is cooked, but it is cooked very quickly. The mince is flash fried then quenched with lime juice. chopped shallots and chillies are added and the special ingredient which is khao khua. This is rice that has been roast then ground to a fine powder. This dish is bursting with flavour and is served with plain steamed rice.
Massaman Curry
Unusually for Thai food this is quite a mild curry. It is actually a Thai take on an old Persian favourite. It is thought that the name Massaman, not Thai, refers to Muslim; it has though, stuck. It is thought to have its Thai roots in the Ancient former capital city of Ayutthaya. The seasoning spices used in the rich sauce are cinnamon, cardamom, star anise, cloves, cumin, bay leaf, nutmeg and mace. This is combined into a paste with coriander seeds, lemongrass, garlic, white pepper, shrimp paste and shallots. The paste is then added to coconut milk and meat potatoes and onions are added. This is a truly wonderful curry.
Khao Kha Moo
Late into the night on the streets of Bangkok You will see street vendors serving up a dish from huge deep woks full of gravy. This is Khao Kha Moo and it is absolutely delicious. Khao Kha Moo is pork leg that has been simmered for hours in a rich seasoned sauce. It becomes so tender that the meat falls just drops off the bone. One requirement for cooking that is that the leg is grilled before stewing. The heat causes the skin to shrink and therefore encloses the meat tightly. They grill the leg it begins to brown, then rinse it, scrape the burned surface, then place it is the sauce to stew.The sauce is flavoured with a chines powder called pha lo, plus garlic, pepper, rich dark soy sauce and palm sugar. It is served with plain rice, steamed cabbage, pickled cabbage and a hard boiled (in the gravy) egg.
Pad Thai
Probably the most well known of all Thai dishes, Pad Thai is eaten everywhere. This is a simply dish yet has many ingredients, soft rice noodles are stirred fried with chopped tofu and eggs, tamarind pulp and fish sauce add flavour. Then dried shrimps, shallots or garlic red chillies and palm sugar are added. Often other vegetables are added like chives, bean sprouts, radishes or even chopped turnips. It is served with wedges of lime. You will find this sold on street corners throughout all the major towns. For many this is the best food in Thailand and certainly one that is synonymous with Thai cuisine.
Mango with Sticky Rice
The secret of this dessert dish is the rice. It has to be the more rounded rice which has a more glutinous quality to it. After the rice has been cooked, coconut milk and sugar is heated in a pan. The rice is then added and the heat turn off. The rice then absorbs all the liquid and becomes one soft glutinous lump. It is then simply served with slices of fresh yellow mango. This is a firm favourite among Thai people and not surprisingly, it is really delicious.
Thai Sweet Green Curry
This very popular dish stems from central Thailand and is again very popular; it is now found all over the world. The green chillies give the dish it's distinctive colour whilst the sweetness refers not to taste but the particular hue of green. Probably the most common meat used is now chicken, though traditionally it was fish or fish balls. This is a lot milder than the fiery Red Curry that is also very popular in the country. As well as the meat Thai Aubergine and Pea Aubergine are also added.
Thai Red
Very similar in many ways to the green curry but this is fiery hot. More a soup than a curry, it is again coconut based but it is the heat that makes this dish stand out. Extremely tasty it is a form favourite among lovers of the best food in Thailand, and curry lovers everywhere. The main ingredient are shallots, garlic, red chillies, shrimp paste, galangal, kaffir lime peel, coriander, cumin seeds, lemongrass and black and green peppercorns. Delicious served simply with rice.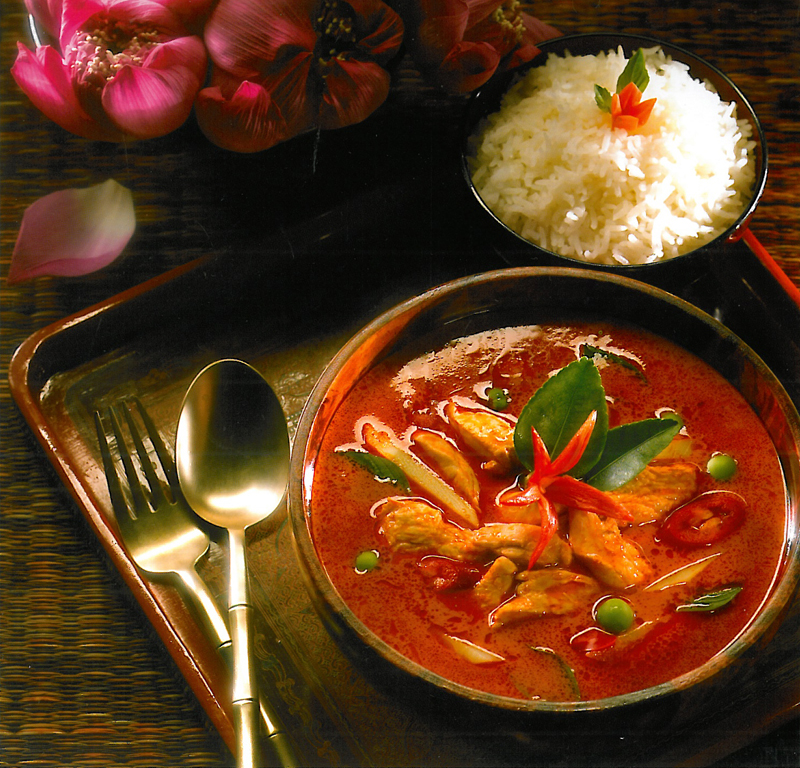 Yam Nua
This spicy beef sad is absolutely bursting with flavour. It is for me, the best tasting salad dish in the world. Red onion, coriander, spearmint, lime, dried chilli and tender strips of beef are tossed in a light lime based sauce. It is the most simple dish imaginable, but the flavours absolutely explode in the mouth.
So there you have it. I dare say it won't match everyone's list of the best food in Thailand. I am sure that morning glory, chicken and cashew nuts and many others will be the favourites for some of you. I do feel though, that a lot of these dishes would make it on to anyone's list. Let us know your preferences.