Last year in Bangkok, three workmen fell to their deaths from The Baiyoke Tower, the tallest building in the city. Their cradle slipped and tilted and the unfortunate men fell from around 68 floors. Two further workers hung on for over half an hour before being rescued, suffering from hypothermia. Watching the sky scrapers flying up around Saigon at the moment, you do sometimes have your heart in your mouth at the dangerous nature of some of the jobs needed on these construction sites.
In An Phu in the affluent District 2 area of Saigon, massive development is currently underway. Eventually An Phu should resemble the Phu My Hung area of district 7. Trendy shopping Malls and many tall glass towers are planned. The new Lexington Residence is under construction and having spent the last few months sorting out the foundations, the towers have finally, this week, started to rise above ground level. When completed there will be four towers of 25 storeys stretching high into the sky, plus a huge five storey block of mainly shopping mall and offices, with a swimming pool on the roof. The site is next to the main Mai Chi Tho highway, which runs from the tunnel to district 9 and beyond. .
Watching the crane drivers on these sites is a stomach churning sight at times. The view from the apartments next doors, show just how much these cranes sway about when lifting heavy loads. The drivers must have an amazing head for heights and now fear as they sway about 100 feet in the air. This is only the start, as the buildings go up, so will they.
In Austria this week, two window cleaners working on the tallest building in the country, the DC Tower 1 in Vienna, thad a lucky escape when their cradle, twisted and hung at a frightening angle for, what must have seemed like a lifetime, until the 30 firefighters called to the tower where able to secure ropes and get the men inside. Any who like me, is afraid of heights, will have nightmares just thinking about the prospect of dangling from a cradle hundreds of feet in the air, whilst someone battles to take out window frames to retrieve them.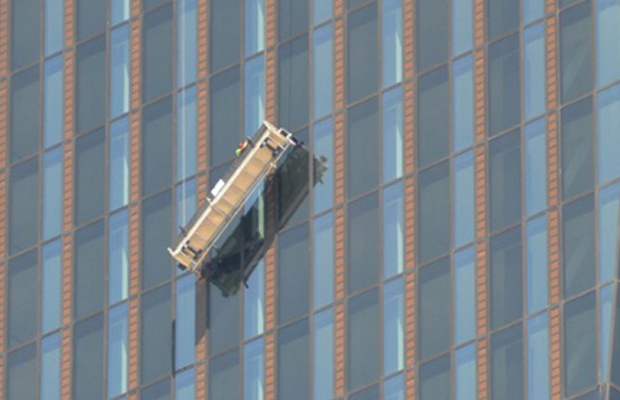 Any job of this nature of course comes with inherent dangers, it is simply a case of minimising the risks. With the Bayoke Tower incident for example the men claimed that they all wore safety harnesses but had just come back from lunch and had forgotten to use them. Hmmn, five men all forgot at the same time?