Taking a stroll round the Riverfront area of this charming city, it is not hard to constantly be reminded of what a magnificent testament to French Colonialism it must have been all those years ago. It is not difficult to imagine the upper class French people strolling along the front here, taking in the sun and stopping for a coffee or a cool beer in one of the superb colonial buildings along the way. Even in the dilapidated streets, when you actually look at the buildings, you see that for the most part they are quite splendid in their design. Phnom Penh makes you relax, it's just one of those places. Like Siem Reap in the north, the pace of live is slower here, gentler. The only traffic fills the Riverfront as though this is the only place to drive. It appears that all the other streets are for the most part, empty.
Out beyond the Palace, at the intersection of Norodom Boulevard and the wide gardened Sihanouk Boulevard stands the Independence monument. This dark imposing tower is typical of many in Southeast Asia. It is pretentious and nationalistic but I suppose when you have fought for freedom for many years, the people are happy to celebrate by constructing such objects. It features images of the Naga, the many-headed snake from ancient Cambodian mythology.
Durian, I have never understood the appeal of this most smelly of all fruit
Just behind my hotel 5 street runs parallel with the river. Part of this is turned into a market most of the time. It is not like anything you will have seen in the West, for the most part there are not even stalls. The vendors simply speed a mat on the floor and pile whatever it is they are hoping to sell on it. Hygiene, does not on face value, appear to be a major concern. Women and small children appear to be the main vendors though there are some men. It's a seething mass of humanity all vying for position. The lanes between the 'stalls' are just about wide enough for two people to pass, yet motorbikes still ride through the narrow spaces constantly. All manner of stuff is sold here, meat, fruit and vegetables, household equipment and clothing appear to make up most of it. I watched as a guy cut up and sold Durian to an eager woman customer. I can remember years ago as a child watching David Attenborough on TV. He talked about Durian Fruit, how it is the most vile smelling fruit on the planet but once you get your head past the smell, the wondrous flavour can be enjoyed. I have tried it. To me it smells like the rotting carcass of some unfortunate animal laid out in the sun. The smell is genuinely gut wrenching. I happen to think that it also tastes like it smells. I simply don't get the appeal.
Just across the street from the market are a couple of shops selling sugar cane. This most Cambodian of crops is extremely popular. The sweet pulps is either squeezed in a press to extract the sugar liquid from within, or the cane is chewed. What affect this has on the nation's dental hygiene, one can only imagine. But it is seen everywhere throughout this part of the world. That two whole shops are given over to selling nothing but sugar cane, is a measure of its popularity.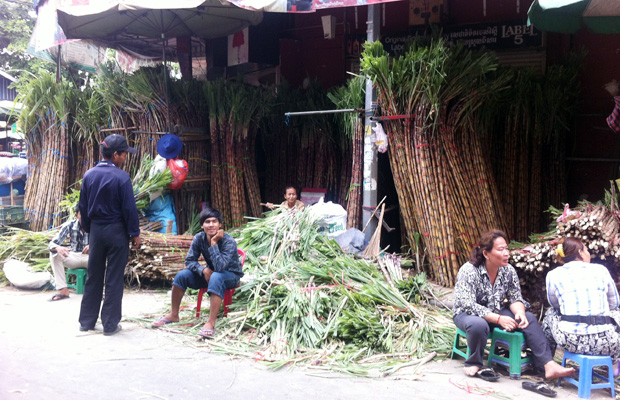 I keep walking along 5 street and turn left into 136 again. It really has seen a dramatic change in the 8 years since I first came here. Back then, there was about 4 or 5 bars and even then it was one of the highlights of the entertainment scene in the city. Now the first block from Sisowath Quay is wall to wall bars, with two or three opening up since my last visit, including the aforementioned, rehoused Candy Bar. Many advertise the fact that they are open 24 hours, this too is a long way from where it was 8 years ago. Back then Phnom Penh was like a ghost town, long before midnight. Even in the early afternoon as I stroll along, girls are calling out from almost every doorway. "Handsome Man, come on and half drink" Well you can't blame them.
A Night Out with the Girls
In the evening I met up with Chuck, the Dutch guy from the bus. We had an excellent meal at On The Corner Restaurant on the riverfront then went round some of the bars. I wanted to call in the Pickled Parrot as I should have been playing in a pool match there, but was let down by other members of my team, The Saigon Legends. I went in to see Graham, the boss, and to offer my apologies for the cancelled game. Lo and behold, it turned out that it was indeed this bar that I had been in before, mistaking it for Walkabout. We got chatting to an Aussie guy called John, who joined us on our ramble round. We went in Shanghai, The Black Cat and Zeppelin, a new one for me. This is owned by an old Cambodian rocker, who loves his vinyl. He has a huge collection of rock albums and proudly boasts that he will be able to find whatever you want. My kind of music, we spent a very pleasant hour or two here before drifting back to 136 Street to catch the late night bars. I left John surrounded by beautiful girls at about 4.00 and drifted back to my room. Three hours sleep before the bus home, it's going to be a long day!