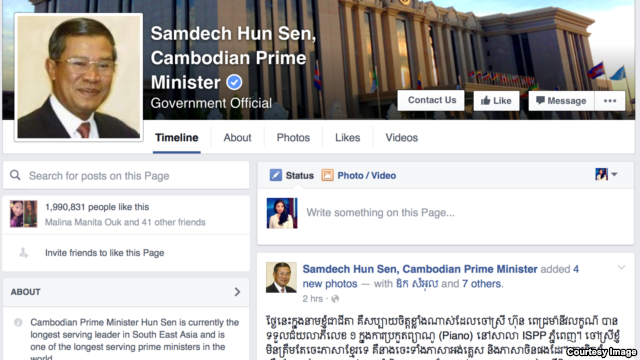 On Sunday, Prime Minister Hun Sen had a message for his people, and took to his new favorite outlet, Facebook.
The former Khmer Rouge cadre in the past has reveled in his reputation as a strongman and as one of Asia's longest-serving leaders. But the weekend post had a friendly tone, showing the 63-year old playing a round of golf, and thanking his followers for their concern for his health.
"Since I returned from Singapore for the medical check up, I'm playing golf as usual for my health," he said. "It's true that sports strengthen my health."
The post followed images last week of Hun Sen receiving medical treatment in Singapore. That post received more than 100,000 likes and more than 8,000 comments. He later informed his followers that he had been given a clean bill of health.
"It's right that I have to always be healthy and live and lead the nation to further development. I won't let my countrymen become hopeless," Hun Sen wrote. "Meanwhile, I would like to wish my countrymen and youth to do sport and to all take good care of your health."
With about one-third of Cambodians now with Internet access, and most of those people using Facebook, Hun Sen is increasingly using the medium to get out his message. Observers detect that the prime minister targeting the country's youth ahead of important elections, in an attempt to win back a constituency of voters who abandoned his Cambodian People's Party in favor of the opposition in the closely fought national polls of 2013.