Saigon is one of the most exciting cities in the world. Choosing your hotel can be a little daunting. Here we have chosen ten superb hotels that give real value for money. We have included, backpacker stays, small boutique hotels and five star luxury hotels. Depending on your budget, none of these will disappoint. The Vietnamese are proud and friendly people and the staff everywhere are generally kind and helpful; In these hotels that is a reccuring theme. We have also covered half a dozen different districts within the city to try and give travellers a choice.
Ma Maison Boutique Hotel
Address: 656/52 Cach Mang Thang Tam Street, Ward 11, District 3
Book Room Online Here
A super little boutique hotel in the more Vietnamese district 3. This is adjacent to district 1 so the hotel is ideally placed for all the major attractions. It is a home from home really, those extra touches that make someone feel welcome, are in evidence everywhere; Sesame cookies and scented cinnamon sticks in the rooms. Beautiful rooms, exceptional staff and a wonderful ambience. There is no lift in the hotel so make sure you ask for a lower floor unless you are fit enough to climb stairs. However, it is worth the climb to stay in this delightful little French styled hotel.
Lavender Hotel
Address: 208-210 Le Thanh Ton Street, Ben Thanh Ward, District 1
Book Room Online Here
A Really good hotel close to all amenities and some of the rooms have fantastic views of the city. The breakfast is good and they have an egg chef, which for a hotel at these prices is pretty good. The staff are helpful and speak English. Some of the rooms are very small, but an upgrade will not cost much and the staff will be happy to oblige.

Hotel Nikko Saigon
Address: 235 Nguyen Van Cu, District 1
Book Room Online Here
It's not often that a Five start hotel makes it onto a list of best value hotels, but this place is unbelievably good value for what you get. Situated on the edge of District 1 it is close enough to really enjoy all the attractions, but in a quiet location. The staff here are very well trained top hotel staff. The restaurants are excellent and the rooms and all facilities superb.
Thuy Tien Hotel
Address: 359 Pham Ngu Lao, District 1
Book Room Online Here
This is a nice pleasant and clean hotel right in the heart of Saigon's Backpacker district, Pham Ngu Lao. The Street is a busy thoroughfare facing the well known 23/9 park. The hotel staff are helpful and happy to assist travellers with anything they need. The rooms are clean and it is possible to check in early. This is a very busy place, book early and if you want a quiet night, ask for a room that doesn't face the street.
Saigon Domaine Luxury Residences
Address: 1057 Binh Quoi Street, Ward 28, Binh Thanh District
Book Room Online Here
This is a superb hotel in the popular Binh Tanh District of the city. It is situated in a quiet area about a 15 minute (inexpensive) taxi ride from the centre of town. The best way into town though is to use the hotel's free speed boat service along the river, always a great way to enter any city. It has excellent suites and fabulous staff. There are lovely restaurants close by and the hotel swimming pool is superb. The rooms are large and very well appointed.
Riverside Apartments
Address: 53 Vo Truong Toan, Thao Dien Ward, District 2
Book Room Online Here
District 2 is over the river from District 1 and accessible over the Saigon Bridge. This is a district favoured by many expats and as result there are plenty of western style cafés, bars and restaurants. The air quality is better here and the whole place has a peaceful laid back appeal. It is only 15 - 20 minutes to the heart of town by taxi and they are not expensive. The hotel is fabulous, built right on the banks of the Saigon River, the rooms are tastefully decorated and the swimming pool area is pretty unbeatable, complete with tennis and basketball courts.. The riverside restaurant is exceptional. For those who like the water, the free Residence riverboat taxi into town gives a unique perspective of this amazing city.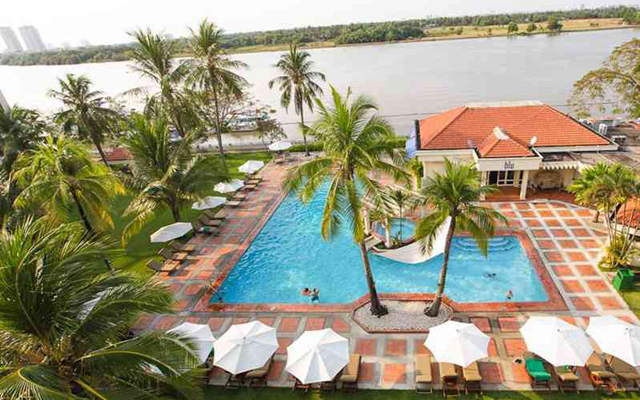 Sofitel Saigon Plaza
Address: 17 Le Duan Boulevard, District 1
Book Room Online Here
Another 5 star hotel that makes it into the value list is Sofitel's Luxurious Saigon Plaza Hotel. Situated right in the heart of the best part of town, this is just a stone's throw from The Reunification Palace and many other attractions. It sits on one of the most impressive of all the cities boulevards. The rooms are spacious and extremely plush with giant beds and wonderful decor. Amazing bathrooms fitted with real 5 star opulence, finish off these exceptional rooms. This is about as good as hotels get, and the prices are sensible and utterly justifiable.
Ngoc Linh Hotel
Address: 283 / 21 Pham Ngu Lao, District 1
Book Room Online Here
Most probably the best backpacker hotel in town, Ngoc Linh Hotel offers much better quality than the prices would suggest. The rooms are small but they are impeccably clean and well appointed. This is smack bang in the middle of the backpacker area and is a vibrant and busy place, especially at night. The hotel is really welcoming and a great place to stay, for those on a budget. The breakfast are generous and very well done. All in all this is a real winner.
Bizu Boutique Hotel Phu My Hung
Address: 15 - 17 Cao Trieu Phat, Hung Phuoc 1, Phu My Hung, District 7
Book Room Online Here
Phu My Hung is one of the more upper class areas of the city. It is home to many Western style restaurants and bars, shops and businesses. This is a really nice area. It is over the river from District 1 to the South and is about 20 to 25 minutes into downtown Saigon. The hotel is wonderful, built in the local style it blends in beautifully with the surrounding up market villas. The rooms are very nice, well appointed and windows look out into an area that is full of trees. The staff are very welcoming and the hotel's golf buggy is a familiar site around the district taking people where their wish to go, locally.
Grand Silverland Hotel & SPA
Address: 125-133 Ly Tu Trong Street District 1
Book Room Online Here
The rooftop restaurant here almost puts this place on the list just on its own. The views from the roof are possibly the best in the city. The infinity pool is a nice touch also, perfect for relaxing after a hard days sightseeing. The food is superb, no frills and extremely reasonably priced. The rooms are luxurious and the lobby is extremely well designed and welcoming. The staff go the extra yard here, giving maps and explaining where everything is in their city. The hotel is situated right next to Ban Thanh Market, so you are really right in the heart of things here.

There you have our list. We hope that you enjoy your stay in this fabulous city. Please let us have your feedback. We are always trying to improve the information that we provide on the site.
Follow us on Twitter and Facebook and share your experiences.