Saigon by night is a truly remarkable place to be. One thing that has always excited me about big cities is the way they change from day to night. This has never been more true than in Saigon. The streets that are bustling through the day come even more alive at night. It is however the big buildings that really steal the show. Some of Saigon's towers are, to be honest, a bit bland in the day. However, come nightfall, they get dressed up and ready to party in the most dramatic fashion.
This is clearly demonstrated by taking in the city landscape from the Thu Thiem Bridge. During the day, the view along the Saigon river to the Business District is good but not remarkable. Come sunset and the show begins. The buildings light up in the most dramatic fashion and it really is a sight to behold. I love this city, pollution apart, and even more I love Saigon by night.
Saigon by Day Becomes Saigon by night
I took a ride round town with talented English photographer Martin Simpson. On holiday from his native Bolton in the North of England, he too was blown away by the staggering difference of Saigon by day and Saigon by night.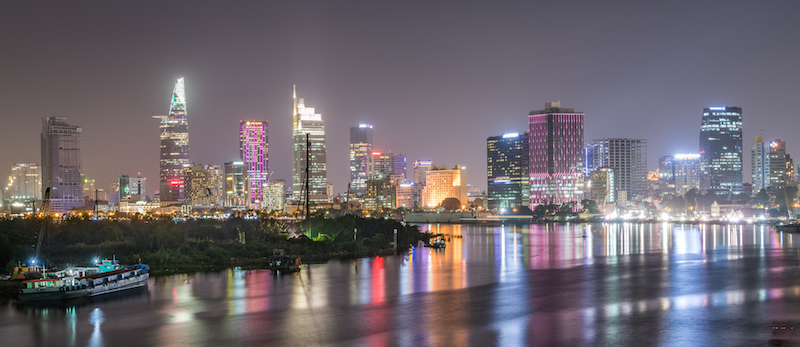 Moving into town I singled out a few of my favourite buildings and Martin photographed them. Then we went for a beer at one of my favourite haunts the rooftop bar of "In Saigong" and waited for sunset. It was good to catch up with my mate jaime Tuckwell the owner over a few cold ones.
The Vincom Center
Times Square
Probably the most strikingly different change happens with the Times Square tower. Again this is quite unremarkable during the day but turns into a fabulous colour show in Saigon by night. Patterns and colours change and at Tet it is common to see the Vietnamese flag flying round it.
The Bitexco Financial Tower
Saigon's tallest tower (for now) The Bitexco Financial Tower is, to be fair, pretty striking by day and by night. Trying to capture it from the best angle was a challenge and admittedly one that I failed to get just right. I was forgetting that the day time view which I prefer from District 4 does not show off the lights to their best effect.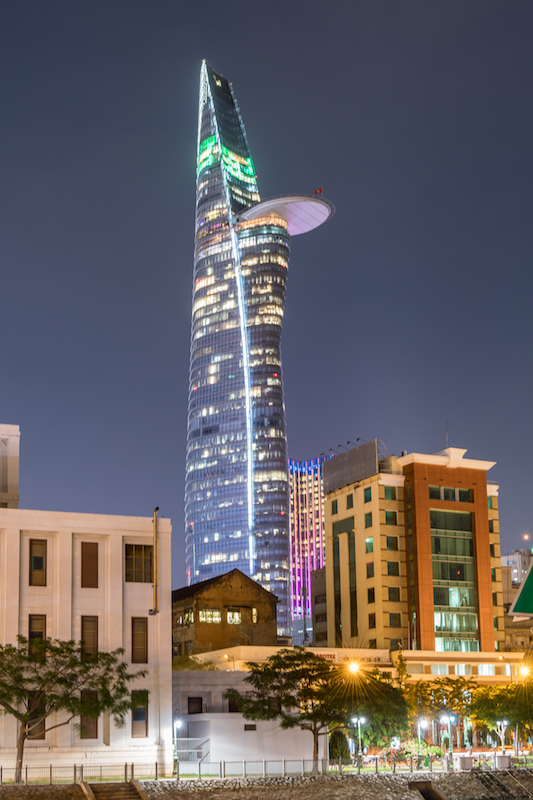 The Vietcombank Tower
Moving round the riverfront I wanted Martin to capture the new Vietcom bank Building from the gardens by the Tran Hung Dao Statue. I think he did a great job here and again, the building improves when it puts its party frock on at sunset.
I want to go out again and do a similar exercise focussing on the French Colonial buildings, but I wanted to do the glass towers first as I think they create the greatest disparity between Saigon during the day and Saigon by night.
A huge thank you to Martin Simpson for the stunning photography.