If you are going to enjoy a Hanoi holiday be prepared to use some energy. This was quite a day. After a great nights sleep I awoke refreshed and ready to go. One infuriating thing about the hotel is that they turned the internet off a midnight. No doubt someone is trying to save electricity!
Since I last stayed at this hotel they have built a small restaurant area to the front. This is the ideal spot to enjoy breakfast. I had a light one of cereal, fruit and lots of coffee, then set off in search of adventure. First port of call was the Women's Museum. Women have played such an important role in the development and history of this country it cannot be overstated. Even today they probably make up a third of the workforce on construction sites.
The Women's Museum, a Must See on any Hanoi Holiday
The museum was founded in 1995 and tells the story of women's place in Vietnamese society and culture. Exhibits are labelled in French and English. It holds an excellent collection of propaganda posters, costumes, ethnic tribal basket ware and fabric motifs from Vietnam's minority groups. This is unmissable on any Hanoi holiday.
The Museum is excellent. A mere VND 30,000 to get in and the same for an audio guide. Tootle cost about $2.50. It is spread over 5 floors but don't worry there is an elevator. The first floor is really just the ticket office and shop. 2nd floor is women in the family, 3rd omen in history, 4th women's fashion and the top floor is contemporary art. This is an amazing museum, I only had time for about 90 minutes here and it wasn't enough.
West Lake
We left the museum and drove to Don's Bistro on the banks of West Lake to Interview the owner Don Berger to gain some insight into the culinary scene in Hanoi. It was an interesting chat and I look forward to returning to eat at the restaurant. We then drove around West lake which is really beautiful and far larger than I had expected. It has about 10 old temples on its perimeter. There are also smaller lakes where they grow lotus plants. At the right time of year, the put tea leaves inside the lotus bolds and tie them up. This is left for a while to infuse the flavour. This is how they make the famous lotus tea that is served here.
Lunch at Pho Gan
We stopped off in a tiny cafe for lunch, Pho Gan. It only had three tables and looked almost more like an antique shop than a restaurant. We had only been there a minute when a girl at the next table let out a shriek. She had poured piping hot soup all over her leg. The tables have the heated plates in the middle so it was literally boiling. Everyone rushed to her assistance with wet wipes and ice cubes and hopefully no serious damage was done.
The menu was pretty unique is is displayed as labels on a collection of beer bottles. We had a light lunch of pork, Beef with Morning Glory, Fried rice noodles  and super fresh salad. The pork had a really spicy dipping sauce which I enjoyed. The beers went down well also. The beef was the best bit, and the beers of course. These little cafe/restaurants add something special to your Hanoi holiday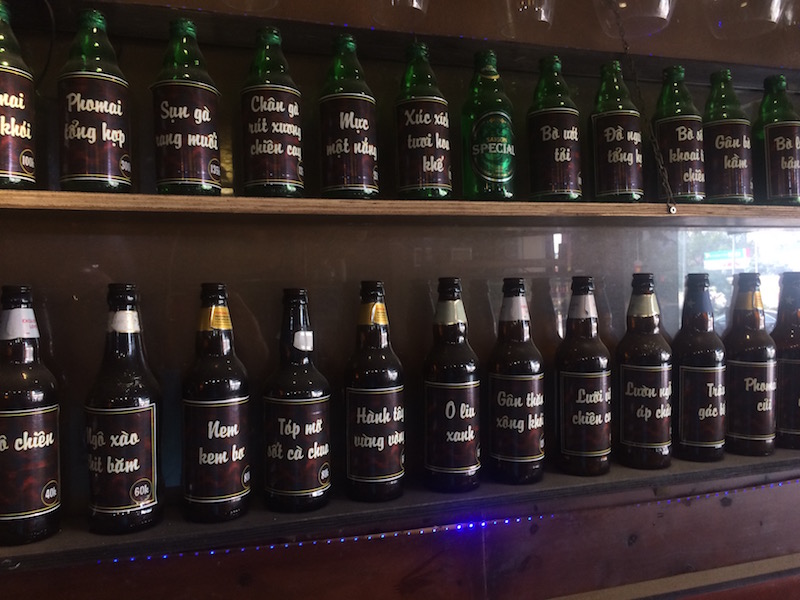 <center>*Fried rice noodles*</center>
Fully fed, we set off for our next meeting, with a guy called Mark Rapoport who is an American who has developed a huge amount of knowledge about ethnic crafts here in Hanoi. But that is for part 4