The best German Restaurants in Ho Chi Minh City cover a very wide range of styles and designs. They are as varied as any other category. One of the great strengths of Asia in general and Vietnam in particular is that the people are not so quick to categorise or pigeon hole. So whereas German restaurants have so readily spread across Europe, they have flourished in Vietnam.
The German Beer Garden type establishments are very popular among the Vietnamese. The locals like to gather in large groups to socialise and drinking German beer is all about socialising. The Gardens go for large tables where you sometimes are forced to be thrown together with strangers. That doesn't negate the fun here.
So which are the Best German Restaurants in Ho Chi Minh City
Gartenstadt German Restaurant
Address: 34 Dong Khoi, District 1, Ho Chi Minh City, Ho Chi Minh City, Vietnam
Tel: +84 8 3822 3623
See Details
This is not really more than just a small city centre bar, but it opens out at the back a little to reveal 10 or so tables for diners. The hardened drinkers sit at the bar and enjoy some amazing imported German beers. You may choose a bar snack and stay where you are or something more substantial and take a table. It's a very good location on Dong Khoi in the heart of the business area and the ambience is great, especially with the after office crowd.
Krauts
Address:62 Huynh Thuc Khang, Ho Chi Minh City Vietnam
Tel: +84 90 670 06 36
See Details
This is a highly successful barbecue style german restaurant in the middle of town. So successful in fact that is becoming absolutely necessary to book. The place gets packed every night. The serve yourself buffet features favourites like Weiner Schnitzel and Currywurst and the beers flow quickly. The crowd really enjoy this place and the atmosphere is certainly raucous rather than languid.
Brotzeit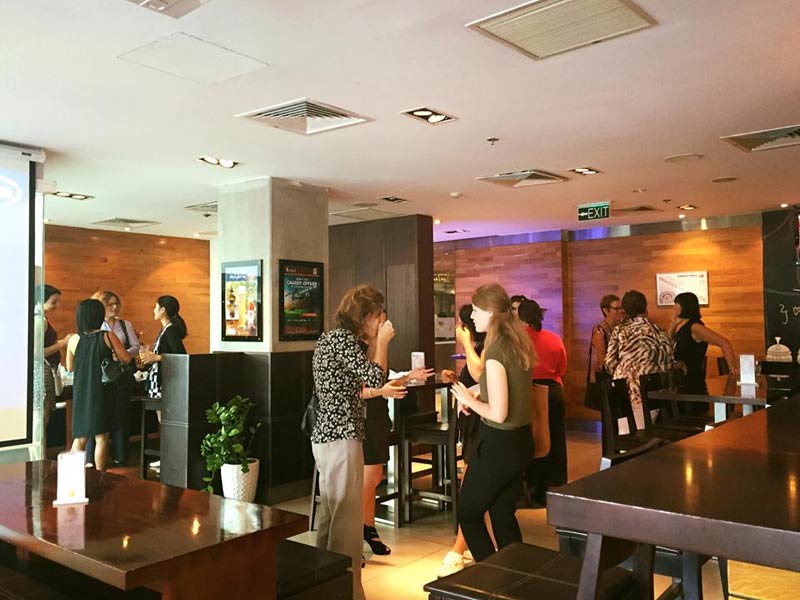 Address: 39 Le Duan Street, Ben Nghe Ward, District 1, Ho Chi Minh City, Vietnam
Tel: +84 8 3822 4206
See Details
This one of a chain spread right across Asia. They are successfully operating in Malaysia, Vietnam, Hong Kong, China, Philippines and Australia. Their Saigon outlet is in the Kumho Plaza building on the corner of two of the city's busiest thoroughfares. It sits on the mezzanine floor and provides a great place to people watch. This is a casual dining concept and features regular menu specials like Ladies nights on Thursdays. The food is authentic though not cheap, understandable because of the setting.
Bier Garden
Address: 125 Dong Khoi, Ho Chi Minh City, Vietnam
Tel: +84 08 3521 0691
See Details
Good food and beers accompanied by live music from the Filipino band. Pork knuckle and sauerkraut and many other german standards are available here. The atmosphere is fun and it is a popular place. The bar opens out into a garden at the rear where there is a fishpond. It's very suitable for families.
Nguyen Du Brauhof
Address: 98 Nguyen Du, District 1, Ho Chi Minh City, Vietnam
Tel: +84 8 3822 6861
See Details
This cracking little german Bier Keller style bar is right in the centre of town, just along from the Notre Dam Basilica. It's owned and run by a Vietnamese guy who used to live in Germany. The beer is brewed on the premises and is really quite splendid. It is located in an old villa and is a great place in which to relax, especially after work. Don't expect great service, but do expect terrific food and drink.
Let us know what you think of this list or if we have missed a really good one. Lists are always subjective but we try to be realistic. These 5 Best German Restaurants in Ho Chi Minh City will not disappoint.