Phnom Penh Trip Part 7: The Long and Winding Road Home
Booking bus travel through a travel agent means that you have to be ready well in advance of the departure time. It can be a bit frustrating, but they cannot say where you will be on the list of pick ups. I was told that I would be collected between 7.00 and 7.20. In the event it was 7.35, just late enough to get me worrying. That I was the first pick up didn't really explain the tardiness of the transport. There were only two other people on the minibus that took us to the departure location by the weekend market and both were taking the Siem Reap bus. As I boarded the bus for Saigon it soon became apparent that this one was in fact not as busy as the outward journey and there were only eleven passengers, all crammed into the first three rows of course. Quite why the crew on this bus felt the need to play movies on the TV with the sound turned off was a little beyond me.
We were soon speeding through the Cambodian countryside making good time in our race back to the ferry, the chaos at immigration and the magnificent city of Saigon. I have lived here for 18 months now and it loses little of what first impressed me when I came. I have never quite understood why return journeys always appear quicker but they do, in no time at all the ferry is behind us and the border is looming large. A group of young guys on the bus ask the driver to put the sound on the TV. Oh Great! I can now get to hear the second half of a James Bond movie. The inability of people nowadays to enjoy silence and simply absorb their surroundings baffles me. I think they must have the attention span of a goldfish if they cannot find the Cambodian countryside stimulation enough. Mind you, by the looks, 6000 volts wouldn't be stimulation enough… and I thought I had had a big night.
The Fastest Trip through Vietnamese Immigration on Record
Well what an amazing trip through immigration that was. At last someone is thinking outside the box. We arrived at the Cambodian side of things and got our departure papers sorted out then the bus went to the same band new service and duty free area as we did on the way in. Here though things were handled very differently. After eating we drove to the Vietnamese border post and was told to simply walk straight through. A couple of hundred people were queuing in the usual chaos of the immigration hall and we simply ignored everyone and walked through. Whilst we had been eating, these lovely people at Giant Ibis had sorted out our entry stamps. The whole process from start to finish had taken 40 minutes and 30 of those was seated in the restaurant eating. I cannot recommend this company higher.
We were soon flying through the outskirts of Saigon on our way back in. It had been such a fast transition that we beat the rush hour back and instead of arriving back in heavy traffic we moved swirly through the suburbs and back into District 1 in a heartbeat. This had been a really good weekend break. Total cost before spending money was under $100 for transport and three nights accommodation. I love Saigon but it is nice to get out of the city and do something different once in a while. I am planning the next one already, I'd like to get down to Vung Tau or Mui Ny for a short break of a different nature. Whichever it is, I want to go on my motorbike for the next trip. I would like to get a helmet cam before then also to really show you what the traffic is all about.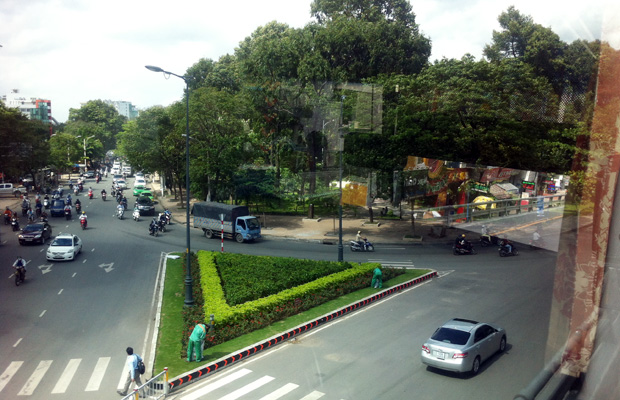 Back home and with plenty of time to enjoy a quiet drink before hitting the swimming pool. This has been a most enjoyable weekend break. I really do have to do more of this. Saigon is a terrific base from which to explore the countries that make up Southeast Asia. However for now it's back to work, In the morning I shall go down to my favourite café, have Pho and a caphé Sua Da, then go for a swim, again. It's a tough old life.