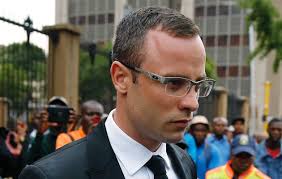 Finally the verdict is in on a trial that has lasted months, cost millions and made the South African judicial system look ludicrously flawed.
Normal people around the planet were starting to believe that Célébrité in itself was reason to be found innocent. In recent years there have been so many cases where seemingly watertight cases have produced not guilty verdicts. The worrying thing is that fans fall for it as well. Thousands of Michael Jackson fans refused to believe he was anything other than innocent, yet the same people would be happy to tear Gary Glitter limb from limb. On the face of it, the only difference between the two, is the style of music and the size of the fame. I'm with comedian Jimmy Carr on this one, I don't know how guilty he was, but if I was a multi-millionaire paedophile, I'd definitely have a fairground in my back garden.
OJ Simpson's run from the police was watched by millions and yet when it came to trial time, he twisted and turned like a trapped python and got the verdict that he wanted. Many people within the justice system were astonished that he escaped, maybe his arrogance was what called his ultimate downfall years later. These guys actually believe they are fireproof. Phil Spector was genuinely astonished when the verdict was read out. Turning up to court every day wearing a different wig, he seemed to think that his best defence was just to be eccentric. Thankfully he was one that didn't get away with murder and is currently serving 19 years in an American Jail.
The Oscar Pistorius case has raised more questions than answers. However the bottom line must be that nobody should be allowed to shoot another person through a closed door and walk free. The chances are of course that he will. A guilty verdict here for culpable homicide means little. He can appeal the sentence if given jail and if he is granted an appeal will probably be given bail whilst awaiting the new trial which could take years. He could of course still escape jail and be given a suspended sentence which means that the blade runner would be back in business. Again the fans that are defending him are not doing so on any of the facts but just on the fact that he has no legs and has beaten all odds to become an athlete. Justice for the family of Reeva Steenkamp must surely come from a better position than this.
Surely the general public around the world should be able to think that if someone commits a crime then they have to pay the price regardless of who they are. Operation Yewtree in the Uk is not doing much to quell people's worst fears. Whilst a few notables have been sentenced: Stuart Hall and Max Clifford; one gets the feeling that people with a lot more power and a lot more célébrité will be escaping justice. Rubbing shoulders with politicians and members of the Royal household seems to be the get out of jail free card.
Whether or not Pistorius receives a custodial sentence we will have to wait and see, but if he does walk you can rest assured that he won't be the last.